Werk Out Music and Arts Festival, July 24-26 @ Legend Valley, Thornville OH.
~~ Frameries ~~Full 2021 Werkshop Schedule AVAILABLE BELOW.~~~~
~~MUSIC Schedule also Available BELOW THAT~~
-ADDITIONAL INFORMATION TO COME SOON! –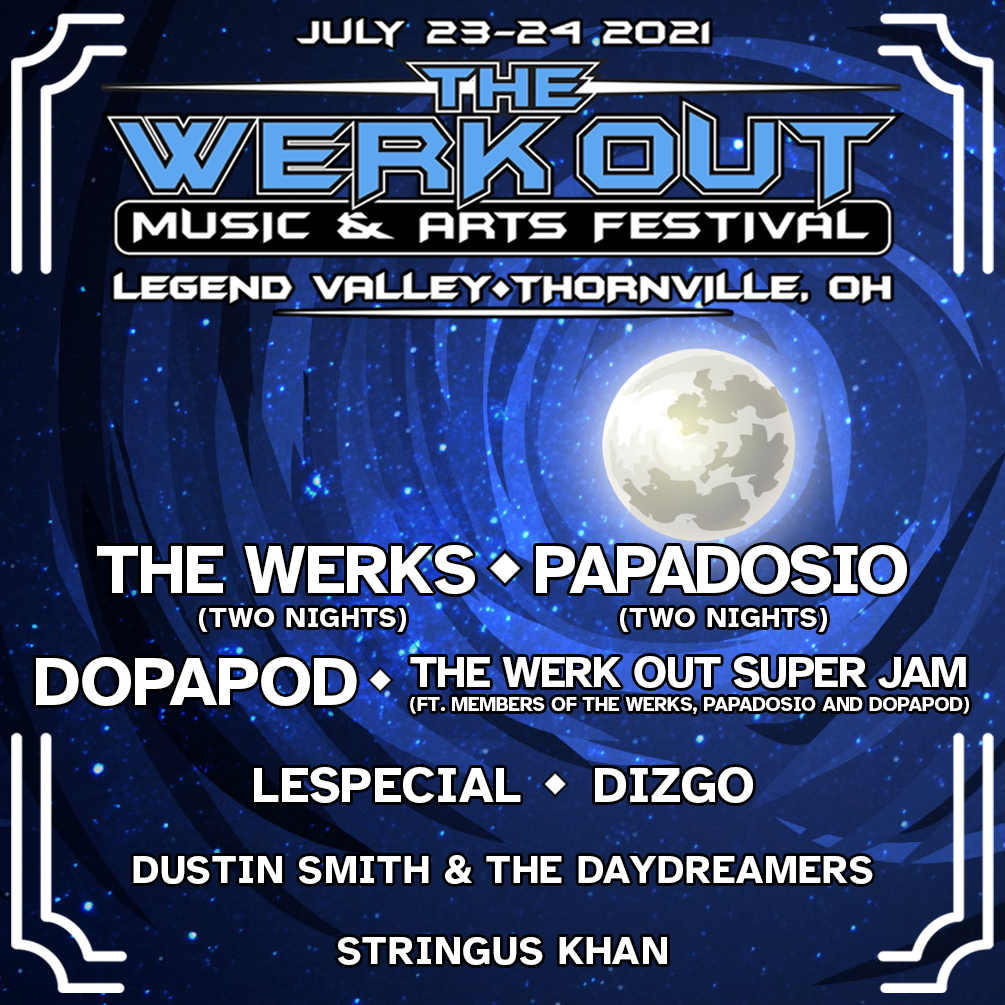 Rio Branco Workshop Schedule (by Location)
The Werk Out Festival 2021
Saturday Workshop Schedule (IKS Dome)
Werk Out 2021 w/ IKS
10:00-11:00am, Understanding Empathy and Guarding Your
Empathic Gifts GroupTalk.
By: Kathy Shipman
11:00am-Noon, Morning Inspirational Circle
By: Frank Tennyson (GRP)
Noon-1pm, Introduction to Divination
By: Kathy Shipman
1:00-2:30pm, TripC's Bleach-Dying Werkshop
By: TripC
2:30-3:30pm, Mycology 201: Pure Culture Techniquez
By: Amungus Farms
3:30-4:30pm, Creating Your Own Healing Device w/ Meditation
By: Ryan Sponsler
4:30-5:30pm, No Mess Abstract Painting on Rocks and Canvas
By: Kaitlyn
5:30-7:00pm, Pin Swap: Show, Tell, and Trade.
By: JohnO and Kat
(Times may run up to 30 minutes behind schedule.)

Saturday Workshop Schedule (Outside Yard)
Werk Out 2021 w/ IKS
10:00-11:00am, Rope Dart Flowshop: Basics to Personalizing
Your Style. (All Skill Levels) [Limited Props Provided]
By: Brandon Lauro
11:00am-Noon, Restorative Yoga
By: Steven Johnson w/ Red Roots Yoga
Noon-1pm, Flow Arts Foot Work: for Power and Control. (Skill-
Levels) {All Prop Types} [Limited Props Provided]
By: Brandon Lauro
1:00-2:00pm, Contact Staff and Warrior Movements Flowshop
(Beginner to Advanced) [Limited Props Provided]
By: Sophia Kopasakis
2:30-3:30pm, The Joy of Chain Whip for Rope Dartists Flowshop
(Beginner to Intermediate) [Limited Props Provided]
By: Bonecrusher (GRP)
4:00-5:00pm, Warrior Movements in the Flow Arts (Beginner to
Advanced) {All Prop Types} [Limited Props Provided]
By: Sophia Kopasakis
5:00-6:00pm, Baptise Yoga Series
By: Steven Johnson w/ Red Roots Yoga
6:00-7:00pm, Hula Hooping 101 and Hooping Skill-Share (All
Skill Levels) [Limited Props Provided]
By: 'Professor' ChrisP
(Times may run up to 30 minutes behind schedule.)
Saturday Workshop Schedule (Pavilion)
Werk Out 2021 w/ IKS
10:00am-till Dark, Werkers Community Mural
~~ALL DAY!!~~
By: IKS Staff and GRP Volunteers
11:00am-Noon, Mycology 101: Talk and Infoswap
By: Amungus Farms
12:30-1:30pm, Fasting: Understanding Intermittent and
Prolonged Fasting
By: Ryan Sponsler
1pm-till Dark, Werkers Community Mural
~~ALL DAY!!~~
By: IKS Staff and GRP Volunteers
3:00-4:00pm, The Real History: History of Protest in America
By: 'Professor' ChrisP
4:00pm-till Dark, Werkers Community Mural
~~ALL DAY!!~~
By: IKS Staff and GRP Volunteers
(Times may run up to 30 minutes behind schedule.)

Saturday Workshop Schedule (LATE NIGHT)
Werk Out 2021 w/ IKS
~~LATE NIGHT~~
Midnight-6:00am, Werkers Community Mural
~~ALL NIGHT!~~
By: IKS Staff and GRP Volunteers
Midnight-1:00am, Late Night Open-Paint Craftshop
By: Kaitlyn and IKS staff
1:00-2:00am, Guided Meditation and Intro to Bhakti
By: Steven Johnson w/ Red Roots Yoga
2:00-4:00am, Late Night Open-Paint Craftshop
By: Kaitlyn and IKS staff
(Times may run up to 30 minutes behind schedule.)
Sunday Workshop Schedule
Werk Out 2021 w/ IKS
10:00-11:00am, Sunday Substance Recovery Sesh Group-Talk
By: JohnO
(Times may run up to 30 minutes behind schedule.)
{{Find IKS at www.iksdome.com or on Facebook for more info!}}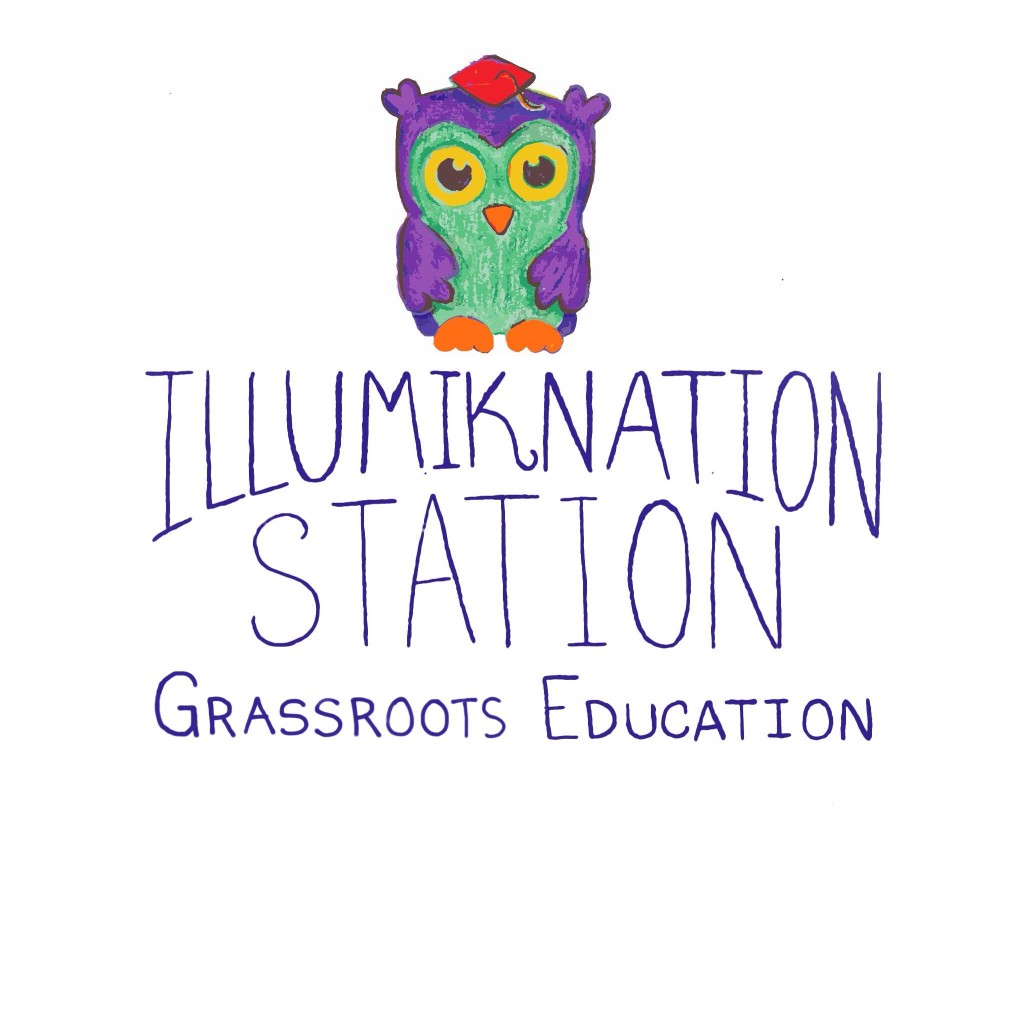 WERK OUT 2021 MUSIC SCHEDULE