http://thehistoryhacker.com/category/hacking/ Divine Spirit's Wonderland 2018
-AUGUST 23RD-26TH 2018 Pure Bliss ranch 2072 310th St. Waubun, MN 56589
https://www.divinespiritswonderland.com/about-us
http://www.pureblissranch.com/contact
-Family Focused! MEALS INCLUDED in ticket, OR CHEAPER OPTIONS WITH NO MEALS!!! 30+Ceremonies! 50+Workshops! Sweat Lodges! Cultural Dancers and Performers! Activities for Adults and Kid! Healing Services! Swimming and Tubing! Proceeds Benefit Pipeline Protests!
-The food for the soul is knowledge, community, growth. Knowledge is the single best food for all going through a spiritual journey. Fill your spirit and mind with the nutrients it needs to grow and prosper. Find them at Divine Spirits Wonderland growing, teaching, and holding space for enlightenment.
WORKSHOP INFORMATION BELOW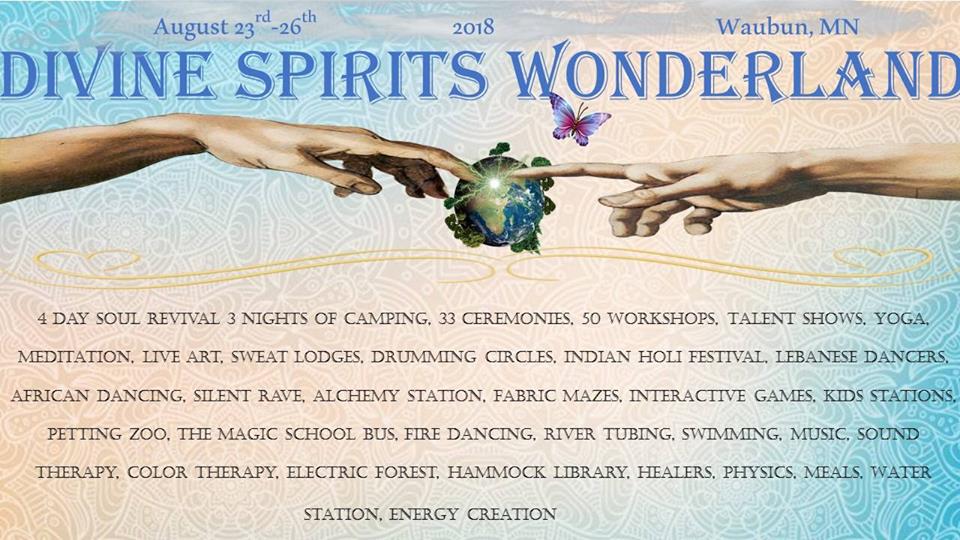 Divine Spirits Wonderland Workshops
(Many more to be announced soon. Yoga and Meditation on Separate Schedule.)
Alamo Urantra: The bible of the Extraterrestrial written by the galactic counsel
​
CAT Paranormal Investigators of Minnesota: Ghost, spirits, energy and things that go bump in the night
​
UBUNTU: The global act of living of teaching sastainablitly
Cannabis RezSolution: The benefits of cannabis farms
​
MN350: Building a Climate Movement in Minnesota: MN 350 will be speaking on the climate in Minnesota and the effects the oil, gas, pollution, sound and lights have on the climate
Solar Power: How you can use them in your everyday life
​
Divine Connections: Connections with self and others
​
NeoEden: Living in the middle of the city is hard when you want to live a self-sustaining life. Find out how NeoEden is a house in the middle of downtown Minneapolis making this happen.
​
Astrology: The true Lunar calendar
​
TRANScend 101
​
Quantum Physics/ Quantum Science: How energy works
​
Space Weather
​
Dreamcatchers: How to make them and how they relate it to the native Indian traditional child care practices relating to the cradleboard.
​
Native Indian birch bark earrings, porcupine quill work on birch bark with beading
​
Native Indian beading
​
The Power of Crystals
​
Understanding the Body's Energy
​
Healing Through Touch: Learn to Massage
The Power of Plants
​
​
Self-Massage: What, how, why, and when.
​
Introduction to crystal work
​
Spring Forest Qi Gong
​
Introduction to Reiki, all ages! Kids Welcome!
​
Group Tarot Workshop
​
Freedom of Expression, Dance and Song
​
Discussion on setting ceremony space, followed by mapacho ceremony
​
Symbiotic Tarot
​
Red Tent Women's Circle
​
Kirtan
​
Guided Reiki